Please help us share this movie links to your friends. So that we can improve our services to provide for you better services in further!

Share this movie links to Facebook, Twitter, Google+, Reddit to help us improve our services more good quality!

We really appreciate your help, Thank you very much for your help!


Share Desirée movie to your friends by: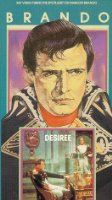 Movies:
Desirée
Director:
Henry Koster
Cast:
Marlon Brando, Jean Simmons, Merle Oberon
Production Co:
Twentieth Century Fox Film Corporation
Genres:
Biography, Drama, Romance
Runtime:
110 min
Country:
USA
Release Date:
1954
In Marseilles, France in 1794, Desiree Clary, a young millinery clerk, becomes infatuated with Napoleon Bonaparte, but winds up wedding Genaral Jean-Baptiste Berandotte, an aid to Napoleon who later joins the forces that bring about the Emperor's downfall. Josephine Beauharnais, a worldly courtesan marries Napoleon and becomes Empress of France, but is then cast aside by her spouse when she proves unable to produce an heir to the throne...