Please help us share this movie links to your friends. So that we can improve our services to provide for you better services in further!

Share this movie links to Facebook, Twitter, Google+, Reddit to help us improve our services more good quality!

We really appreciate your help, Thank you very much for your help!


Share Fantasia 2000 movie to your friends by: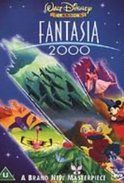 Movies:
Fantasia 2000
Director:
James Algar, Gaëtan Brizzi, 6 more credits
Cast:
James Levine, Steve Martin, Leopold Stokowski
Production Co:
Walt Disney Pictures, Richard Purdum Productions, Walt Disney Feature Animation
Genres:
Animation, Family, Fantasy, Music
Runtime:
74 min
Country:
USA
Release Date:
1999
In this update of Disney's masterpiece film mixture of animation and music, new interpretations of great works of music are presented. It begins with an abstract battle of light and darkness set to the music of Beethoveen's Fifth Symphony. Then we see the adventures of a Humpback Whale calf and his pod set to "The Pines of Rome." Next is the humourous story of several lives in 1930's New York City, scored with "Rhapsody in Blue." Following is a musical telling of the fairy tale, "The Steadfast Tin Soldier" set to Dmitri Shostakovich's Piano Concerto No. 2. Then a goofy Flamingo causes havoc in his flock with his yo-yo to the tune of the finale of "Carnival of the Animals." This is followed by the classic sequence from the original film, "The Sorcerer's Apprentice" starring Mickey Mouse and followed by "Pomp and Circumstance" starring Donald Duck as a harried assistant to Noah on his Ark. Finally, we see the awesome tale of the life, death and renewal of a forest in a sequence...