Please help us share this movie links to your friends. So that we can improve our services to provide for you better services in further!

Share this movie links to Facebook, Twitter, Google+, Reddit to help us improve our services more good quality!

We really appreciate your help, Thank you very much for your help!


Share Breaking And Entering movie to your friends by: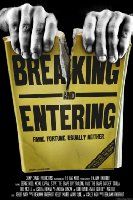 Movies:
Breaking And Entering
Director:
Benjamin Fingerhut
Cast:
George Hood, Michal Kapral, Steve Spalding
Production Co:
Genres:
Documentary, Comedy
Runtime:
88 min
Country:
USA, Canada, China, Norway
Release Date:
2010
Some say that to embrace one's greatest talent is to make the world a better place. Others see a grown man spinning a sixteen-foot hula hoop and snicker about trivial obsessions. Breaking world records is a mysteriously seductive tradition, alternately inspiring, reckless, and bizarre. Follow a joggler, a grape catcher, and a man who cycles nowhere as they battle the odds - and their respective nemeses - in pursuit of global dominance. Since when is it trivial to dream?...