Please help us share this movie links to your friends. So that we can improve our services to provide for you better services in further!

Share this movie links to Facebook, Twitter, Google+, Reddit to help us improve our services more good quality!

We really appreciate your help, Thank you very much for your help!


Share Ctrl+alt+compete movie to your friends by:


Version 1
Server Veoh
Version 2
Server NowVideo
Version 3
Server FlashX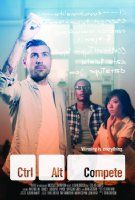 Movies:
Ctrl+alt+compete
Director:
Brian Giberson
Cast:
Joanne Lang, Mark Gilbreath, Josh Sookman
Production Co:
TEN100
Genres:
Documentary
Runtime:
Country:
USA
Release Date:
2011
Ctrl+Alt+Compete documents young tech-entrepreneurs seeking to solve problems and change the world, featuring Nolan Bushnell (Atari), Felicia Day (The Guild), Tony Hsieh (Zappos), Mike Maples Jr (Twitter), Tim O'Reilly (Web 2.0 Summit), Veronica Belmont (Tekzilla), and Cliff Bleszinski (Gears of War)...