Please help us share this movie links to your friends. So that we can improve our services to provide for you better services in further!

Share this movie links to Facebook, Twitter, Google+, Reddit to help us improve our services more good quality!

We really appreciate your help, Thank you very much for your help!


Share Lenny movie to your friends by: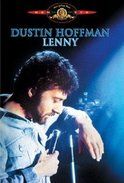 Movies:
Lenny
Director:
Bob Fosse
Cast:
Dustin Hoffman, Valerie Perrine, Jan Miner
Production Co:
Marvin Worth Productions
Genres:
Biography, Comedy, Drama
Runtime:
111 min
Country:
USA
Release Date:
1974
Interview-style biography of controversial and pioneering stand-up comedian Lenny Bruce. The film traces Bruce from his beginnings as a Catskills comic to his later underground popularity based on his anti-establishment politics and his scatological humor...