Please help us share this movie links to your friends. So that we can improve our services to provide for you better services in further!

Share this movie links to Facebook, Twitter, Google+, Reddit to help us improve our services more good quality!

We really appreciate your help, Thank you very much for your help!


Share Spartacus movie to your friends by: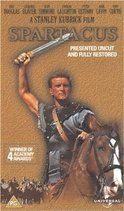 Movies:
Spartacus
Director:
Stanley Kubrick
Cast:
Kirk Douglas, Laurence Olivier, Jean Simmons
Production Co:
Bryna Productions
Genres:
Action, Adventure, Biography, Drama, History, Romance, Thriller
Runtime:
197 min
Country:
USA
Release Date:
1960
In 73 BCE, a Thracian slave leads a revolt at a gladiatorial school run by Lentulus Batiatus. The uprising soon spreads across the Italian Peninsula involving thousand of slaves. The plan is to acquire sufficient funds to acquire ships from Silesian pirates who could then transport them to other lands from Brandisium in the south. The Roman Senator Gracchus schemes to have Marcus Publius Glabrus, Commander of the garrison of Rome, lead an army against the slaves who are living on Vesuvius. When Glabrus is defeated his mentor, Senator and General Marcus Licinius Crassus is greatly embarrassed and leads his own army against the slaves. Spartacus and the thousands of freed slaves successfully make their way to Brandisium only to find that the Silesians have abandoned them. They then turn north and must face the might of Rome...