Please help us share this movie links to your friends. So that we can improve our services to provide for you better services in further!

Share this movie links to Facebook, Twitter, Google+, Reddit to help us improve our services more good quality!

We really appreciate your help, Thank you very much for your help!


Share Dr. No movie to your friends by: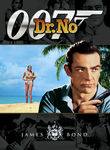 Movies:
Dr. No
Director:
Terence Young
Cast:
Sean Connery, Ursula Andress, Joseph Wiseman, Jack Lord, Bernard Lee, Anthony Dawson, Zena Marshall, John Kitzmiller, Eunice Gayson, Lois Maxwell
Production Co:
Eon Productions
Genres:
Action, Adventure, Crime, Thriller
Runtime:
110 min
Country:
UK
Release Date:
1962
Storyline: James Bond (007) is Britain's top agent and is on an exciting mission, to solve the mysterious murder of a fellow agent. The task sends him to Jamacia, where he joins forces with Quarrel and a loyal CIA agent, Felix Leiter. While dodging tarantulas, "fire breathing dragons" and a trio of assassins, known as the three blind mice. Bond meets up with the beautiful Honey Ryder and goes face to face with the evil Dr. No...