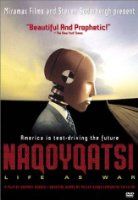 Movies:
Naqoyqatsi
Director:
Godfrey Reggio
Cast:
Marlon Brando, Bella Donna, Elton John
Production Co:
Miramax Films, Qatsi Productions
Genres:
Documentary, Music
Runtime:
89 min
Country:
USA
Release Date:
2002
In this cinematic concert, mesmerizing images are plucked from everyday reality, then visually altered with state-of-the-art digital techniques. The result is a chronicle of the shift from a world organized by the principles of nature to one dominated by technology, the synthetic and the virtual. Extremes of intimacy and spectacle, tragedy and hope fuse in a tidal wave of visuals and music, giving rise to a unique, artistic experience that reflects the vision of a brave new globalized world...