Please help us share this movie links to your friends. So that we can improve our services to provide for you better services in further!

Share this movie links to Facebook, Twitter, Google+, Reddit to help us improve our services more good quality!

We really appreciate your help, Thank you very much for your help!


Share Naqoyqatsi movie to your friends by:


Version 1
Server Veoh
Version 2
Server NowVideo
Version 3
Server FlashX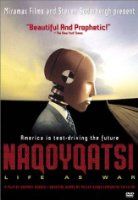 Movies:
Naqoyqatsi
Director:
Godfrey Reggio
Cast:
Marlon Brando, Bella Donna, Elton John
Production Co:
Miramax Films, Qatsi Productions
Genres:
Documentary, Music
Runtime:
89 min
Country:
USA
Release Date:
2002
In this cinematic concert, mesmerizing images are plucked from everyday reality, then visually altered with state-of-the-art digital techniques. The result is a chronicle of the shift from a world organized by the principles of nature to one dominated by technology, the synthetic and the virtual. Extremes of intimacy and spectacle, tragedy and hope fuse in a tidal wave of visuals and music, giving rise to a unique, artistic experience that reflects the vision of a brave new globalized world...