Please help us share this movie links to your friends. So that we can improve our services to provide for you better services in further!

Share this movie links to Facebook, Twitter, Google+, Reddit to help us improve our services more good quality!

We really appreciate your help, Thank you very much for your help!


Share Are We There Yet? movie to your friends by: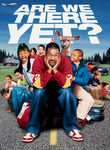 Movies:
Are We There Yet?
Director:
Brian Levant
Cast:
Ice Cube, Nia Long, Aleisha Allen, Philip Bolden, Jay Mohr, M.C. Gainey, Tracy Morgan, Henry Simmons, Ray Galletti, Viv Leacock, Casey Dubois
Production Co:
Revolution Studios, Cube Vision
Genres:
Adventure, Comedy, Drama, Family, Romance
Runtime:
95 min
Country:
USA, Canada
Release Date:
2005
Storyline: The fledgling romance between Nick, a playboy bachelor, and Suzanne, a divorced mother of two, is threatened by a particularly harrowing New Year's Eve. When Suzanne's work keeps her in Vancouver for the holiday, Nick offers to bring her kids to the city from Portland, Oregon. The kids, who have never liked any of the men their mom has dated, are determined to turn the trip into a nightmare for Nick...