Please help us share this movie links to your friends. So that we can improve our services to provide for you better services in further!

Share this movie links to Facebook, Twitter, Google+, Reddit to help us improve our services more good quality!

We really appreciate your help, Thank you very much for your help!


Share Gacy movie to your friends by: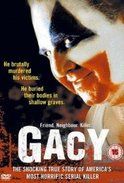 Movies:
Gacy
Director:
Clive Saunders
Cast:
Mark Holton, Adam Baldwin, Tom Waldman
Production Co:
DEJ Productions, Peninsula Films, Rillington Productions
Genres:
Biography, Crime, Drama, Horror, Thriller
Runtime:
88 min
Country:
USA
Release Date:
2003
Wisconsin, 1953. John Gacy, Sr. forces his fat teenage son to have sexual relations with him during a fishing trip. Iowa, 1968. The adult John Wayne Gacy Jr. is convicted of sodomy and after 18 months he is released and settles in Des Plains near Chicago. From 1972, John Wayne Gacy, Jr. grows up as a respected family father and businessman, even tipped for a political career with the Democrats. Alas, while he loudly abhors homosexuality, the monster uses the crawl space under his home for the vice of his abusive father: over 30 innocent boys and teenagers end up buried there, after horrible abuse ending in torturous death, causing it to reek unspeakably, being full of insects decomposing the stream of young corpses. Some victims worked for him, others he just picked up 'for fun' or lured in under various pretenses...