Please help us share this movie links to your friends. So that we can improve our services to provide for you better services in further!

Share this movie links to Facebook, Twitter, Google+, Reddit to help us improve our services more good quality!

We really appreciate your help, Thank you very much for your help!


Share Go Grandriders movie to your friends by: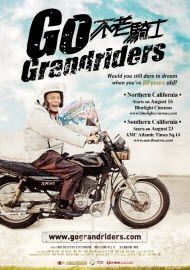 Movies:
Go Grandriders
Director:
Tian-Hao Hua
Cast:
Production Co:
Hondao Senior Citizen's Welfare Foundation, Merry Go Round Media, CNEX Foundation
Genres:
Documentary, Adventure, Family
Runtime:
80 min
Country:
Taiwan
Release Date:
2012
Would you still dare to dream when you're 80 years old? On average, they are 81 years old, but with dreams only 18-year-old and they dare to dream. They would tell you, through life-long experience, 'Miracles do happen as long as you continue to dream!' Among these 17 'Grandriders', 2 have gone through cancers, 4 need hearing aids, 5 suffer from high blood pressure and 8 have coronary diseases. And every one of them has symptoms of joint degeneration. The challenges officially begin when they decide to straddle on their scooters: Objections from family members, taking driver's license at old age, aging bodies and bodily functions and every possible weather and road conditions along that 1178-kilometer long journey...