Please help us share this movie links to your friends. So that we can improve our services to provide for you better services in further!

Share this movie links to Facebook, Twitter, Google+, Reddit to help us improve our services more good quality!

We really appreciate your help, Thank you very much for your help!


Share Dead In Tombstone movie to your friends by: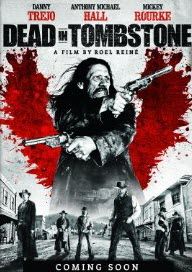 Movies:
Dead In Tombstone
Director:
Roel Reiné
Cast:
Danny Trejo, Mickey Rourke, Anthony Michael Hall
Production Co:
Universal 1440 Entertainment
Genres:
Action, Fantasy, Horror, Western
Runtime:
100 min
Country:
USA
Release Date:
2013
A gang overruns a small mining town murdering their own leader Guerrero (Trejo) in a cold-blooded power grab. Sentenced to eternity in hell he finds himself confronted by Satan himself (Rourke), offering a daring proposition: deliver the six souls of his former gang and he will escape damnation. With time running out, he sets out on a brutal rampage to avenge his own death...