Please help us share this movie links to your friends. So that we can improve our services to provide for you better services in further!

Share this movie links to Facebook, Twitter, Google+, Reddit to help us improve our services more good quality!

We really appreciate your help, Thank you very much for your help!


Share Gia movie to your friends by: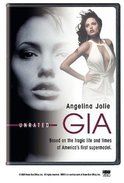 Movies:
Gia
Director:
Michael Cristofer
Cast:
Angelina Jolie, Faye Dunaway, Elizabeth Mitchell
Production Co:
HBO Pictures, Marvin Worth Productions, Citadel Entertainment
Genres:
Biography, Drama
Runtime:
120 min
Country:
USA
Release Date:
1998
When Gia Carangi first arrives in New York City, she's a beautiful drop-out from Philadelphia brashly bursting through the closed doors of top modeling agent Wilhelmina Cooper. Gia's electrifying personality and potent sexuality soon find their way onto the covers of America's top-selling magazines. But being loved by the world isn't the same as being love by one - an unfulfilled desire that can take Gia dangerous places. And for a beautiful woman, one slip could lead to an untimely and terrifying downfall...