Please help us share this movie links to your friends. So that we can improve our services to provide for you better services in further!

Share this movie links to Facebook, Twitter, Google+, Reddit to help us improve our services more good quality!

We really appreciate your help, Thank you very much for your help!


Share Total Eclipse movie to your friends by:


Version 1
Server Veoh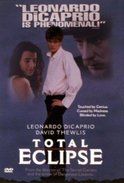 Movies:
Total Eclipse
Director:
Agnieszka Holland
Cast:
Leonardo DiCaprio, David Thewlis, Romane Bohringer
Production Co:
FIT Productions, Portman Productions, Société Française de Production (SFP)
Genres:
Biography, Drama, Romance
Runtime:
111 min
Country:
UK, France, Belgium
Release Date:
1995
In 1871, Paul Verlaine (1844-1896), an established poet, invites boy genius Arthur Rimbaud (1854-1891) to live with Paul and his young pregnant wife, Mathiltde, in her father's home in Paris. Rimbaud's uncouth behavior disrupts the household as well as the insular society of French poets, but Verlaine finds the youth invigorating. Stewed in absinthe and resentment, Verlaine abuses Mathiltde; he and Rimbaud become lovers and abandon her. There are reconciliations and partings with Mathiltde and partings and reconciliations with Rimbaud, until an 1873 incident with a pistol sends one of them to prison. Codas dramatize the poets' final meeting and last illnesses...