Please help us share this movie links to your friends. So that we can improve our services to provide for you better services in further!

Share this movie links to Facebook, Twitter, Google+, Reddit to help us improve our services more good quality!

We really appreciate your help, Thank you very much for your help!


Share Viva Zapata movie to your friends by:


Version 1
Server Veoh
Version 2
Server NowVideo
Version 3
Server FlashX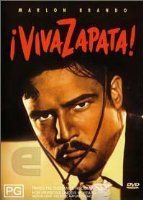 Movies:
Viva Zapata
Director:
Elia Kazan
Cast:
Marlon Brando, Jean Peters, Anthony Quinn
Production Co:
Twentieth Century Fox Film Corporation
Genres:
Biography, Drama, History, War, Western
Runtime:
104 min
Country:
USA
Release Date:
1952
In 1909, Emiliano Zapata, a well-born but penniless Mexican Indian from a remote province, Morelos, comes to Mexico City to complain that their arable land has been enclosed, leaving them only in the barren hills. His expressed dissatisfaction with the response of the President Diaz puts him in danger, and when he rashly rescues a prisoner from the local militia he becomes an outlaw. Urged on by a strolling intellectual, Fernando, he supports the exiled Don Francisco Madero against Diaz, and becomes the leader of his forces in the South as Pancho Villa is in the North. Diaz flees, and Madero takes his place; but he is a puppet president, in the hands of the leader of the army, Huerta, who has him assassinated when he tries to express solidarity for the men who fought for him. Zapata and Villa return to arms, and, successful in victory, seek to find a leader for the country. Unwillingly, Zapata takes the job, but, a while later, he responds to some petitioners from his own village with...