Please help us share this movie links to your friends. So that we can improve our services to provide for you better services in further!

Share this movie links to Facebook, Twitter, Google+, Reddit to help us improve our services more good quality!

We really appreciate your help, Thank you very much for your help!


Share Catch Me If You Can movie to your friends by: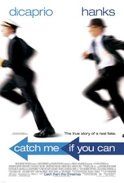 Movies:
Catch Me If You Can
Director:
Steven Spielberg
Cast:
Leonardo DiCaprio, Tom Hanks, Christopher Walken
Production Co:
DreamWorks SKG, Kemp Company, Splendid Pictures
Genres:
Biography, Crime, Drama
Runtime:
141 min
Country:
USA, Canada
Release Date:
2002
An FBI agent hunts down a young con artist who successfully impersonated an airline pilot, doctor, and assistant attorney general, cashing more than $2.5 million in fraudulent checks in 26 countries...