Please help us share this movie links to your friends. So that we can improve our services to provide for you better services in further!

Share this movie links to Facebook, Twitter, Google+, Reddit to help us improve our services more good quality!

We really appreciate your help, Thank you very much for your help!


Share Cast Away movie to your friends by: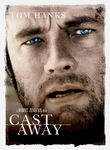 Movies:
Cast Away
Director:
Robert Zemeckis
Cast:
Paul Sanchez, Lari White, Leonid Citer, David Allen Brooks, Yelena Popovic, Valentina Ananina, Semion Sudarikov, Tom Hanks, Peter von Berg, Dmitri S. Boudrine, François Duhamel, Michael Forest, Viveka Davis, Nick Searcy, Jennifer Choe
Production Co:
Twentieth Century Fox Film Corporation, DreamWorks SKG, ImageMovers
Genres:
Adventure, Drama
Runtime:
143 min
Country:
USA
Release Date:
2000
Storyline: A man is marooned on an island after his plane crashes into the ocean. Far away from home, his girlfriend, and any human contact, he engages in a battle of wits with himself as he is tested mentally, physically and emotionally in order to survive...