Please help us share this movie links to your friends. So that we can improve our services to provide for you better services in further!

Share this movie links to Facebook, Twitter, Google+, Reddit to help us improve our services more good quality!

We really appreciate your help, Thank you very much for your help!


Share From Russia With Love movie to your friends by: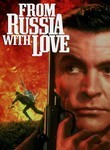 Movies:
From Russia With Love
Director:
Terence Young
Cast:
Sean Connery, Daniela Bianchi, Pedro Armendáriz, Lotte Lenya, Robert Shaw, Bernard Lee, Eunice Gayson, Walter Gotell, George Pastell, Lois Maxwell, Aliza Gur, Martine Beswick, Vladek Sheybal
Production Co:
Eon Productions, Danjaq
Genres:
Action, Adventure, Crime, Thriller
Runtime:
115 min
Country:
UK
Release Date:
1963
Storyline: James Bond 007 is on the search for a Russian decoding machine, known as Lektor. Bond needs to find this machine, before the evil SPECTRE organization discovers it first. Whilst being romantically linked with Russian girl, Tatiana Romanova, Bond sneaks his way around Istanbul, whilst each SPECTRE agent tries to pick him off, including the over powering Donald 'Red' Grant and ex-KGB agent Rosa Klebb who knows all the tricks in the books and even possesses an incredible poison tipped shoe!