Please help us share this movie links to your friends. So that we can improve our services to provide for you better services in further!

Share this movie links to Facebook, Twitter, Google+, Reddit to help us improve our services more good quality!

We really appreciate your help, Thank you very much for your help!


Share Bronson movie to your friends by: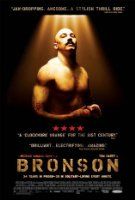 Movies:
Bronson
Director:
Nicolas Winding Refn
Cast:
Tom Hardy, Kelly Adams, Luing Andrews
Production Co:
Vertigo Films, Aramid Entertainment Fund, Str8jacket Creations
Genres:
Action, Biography, Crime, Drama
Runtime:
92 min
Country:
UK
Release Date:
2008
In 1974, a hot-headed 19 year old named Michael Peterson decided he wanted to make a name for himself and so, with a homemade sawn-off shotgun and a head full of dreams he attempted to rob a post office. Swiftly apprehended and originally sentenced to 7 years in jail, Peterson has subsequently been behind bars for 34 years, 30 of which have been spent in solitary confinement. During that time, Michael Petersen, the boy, faded away and 'Charles Bronson,' his superstar alter ego, took center stage. Inside the mind of Bronson - a scathing indictment of celebrity culture...